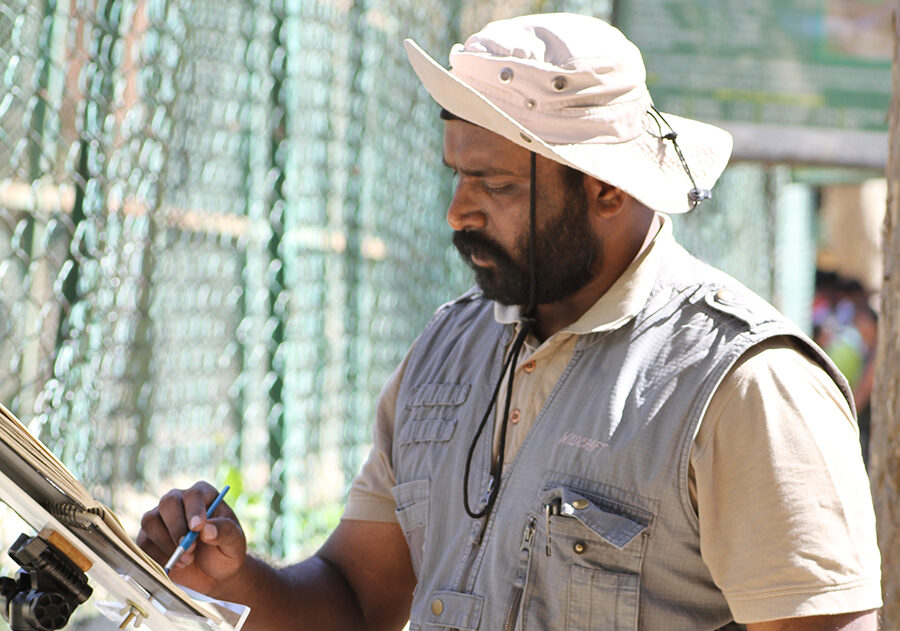 1. Who are your biggest artistic influences?
This is a brilliant question to start with. There are many influencers on my artistic journey. Foremost, my late mother, who recognized my inclination to art at 3 and encouraged me through her life. Then my primary school art teacher, Hemant Sir, who taught me to draw cats, dogs, etc. My first proper introduction to animal art was from him. As I grew up to comics from the local government library, Georges Prosper Remi illustrations from Tintin captivated my interest in story-telling illustrations. Later in my teens, search for an art mentor in the early internet era, i wrote emails to many artists all over the world. Only to hear from international wildlife artist Mr. Pip McGarry. His in-depth response guiding me on how to become an excellent artist is something I follow even today. 
Later, in my late twenties, I became an avid reader of art history and works of Albrecht Durer, Rembrandt and Caravaggio, to name a few, have had a profound effect on my art practice. 
With introduction to social media, learned from award-winning artist Jan Martin McGuire through her online video classes. 
Have been following Carel Brest van Kempen's works through his blog-spot days, always in awe of his unique subjects and compositions. Was thrilled when he started online classes, was extremely lucky to train under his guidance for six months. Those six months of guidance and training from him were like attending art classes art a university. 
From India, I was lucky enough to visit JMS Mani Sir's studio a few times. His print making studio is something to envy about. Got to learn more about an artist's life and how to remain self-motivated. 
The list is extremely long, so I have mentioned a few of them who have had significant influence on my art practice. I always look to learn from everyone I meet. 
2. When is your favourite time of the day to create?
I am an early bird, so mornings are my favourite time to create.  
3. What is your favourite medium?
Pen and Ink is my favourite medium. I love how simple yet complex they are.  
 4.
What got you interested in wildlife and when was it you decided this is the career path for you?
I spent my early childhood summer days at my uncle's home in Tumakuru, a forest stretch surrounded their home. Cousins and I spent most of those days grazing cattle, watching birds, occasional Sloth bear, Leopard and even the elusive Striped hyena. Most of my interest in nature started from there. In 2004, while attending one of the gallery show at Chitrakala Parishath came across an artist displaying wildlife artworks. That was the first time I saw such works eye to eye. That's when I decided to make this genre of artworks. However, since childhood, I always wanted to be an artist. (You may check with my teachers I drew in my books during classes!)
 5.
How easy is it to study wildlife, does it include a lot of plein air or from images captured?
Art is neither easy nor difficult, in my humble opinion. Regarding wildlife art, subjects are challenging since they don't stay put, and it makes it difficult to study them live.
However, there are ways to study wildlife works live, especially from zoos. That's how I started my journey. Habitat plays an important role in wildlife genre, which involves studying them during fieldwork. I would like to say that the wildlife genre involves both Plein air studies and photographs. 
 6.
Which is the one animal that leaves you in awe every single time and why?
This is a tough question to answer. I love all creatures, big and small. If I have to choose a particular group, I love watching Raptors (Including Owls). They are on top of their food chain and it is difficult to be there. Watching them is a great learning experience, their enormous size, power, precision and yet how elegant they are. Watching them fail so many times during their hunt has taught me that no matter how big one is, they have reached there by never giving up. 
To a prey, they are a nightmare. However, there is a tender side to them while bringing up their young ones. They hunt only to survive. They also grieve during loss of life, however move on. I am in awe watching their eyes. Each individual is unique in patterns and behaviour!  
 7.
Did you study art or are you a self taught artist?
Have never attended art school, however have learned under the guidance of many artists. 
 8.
You create a lot with charcoal and ink, why are you drawn to this particular medium?
It is a phase. I like to explore a medium for long periods. It helps me to know a medium better. Have spent first four years of my art practice making only pencil works. Those years of practice gave me the confidence in working on that medium. Similarly with ink, I worked on this medium, exploring various techniques and materials with ink. Black and white attract me the most. They look vintage and have an antique quality to them. With such monochrome mediums, I have to work on values and tones, create textures with minimum resource. 
Since couple of years I am working with charcoal, yet to explore various materials with charcoal. It is an interesting medium; we achieved depth with few strokes. However, achieving mid-tone values is a challenge. I wish to capture varied tones and values with charcoal in the coming years. 
9.
What was the one artwork that gave you national/international recognition?
There are few works which gave me national recognition. 
Oriental Dwarf Kingfisher work got selected for BNHS 2019 calendar. This is the first ever such wildlife art calendar in the country from BNHS. To be shortlisted among the top twelve from 2000+ entries makes me happy. 
Spotted Owlet watercolour painting got published on the cover of Indian Birds magazine. Indian Birds is one of India's leading ornithology magazine, established in 2004. They have featured a handful of nature artists on their cover. It was one of my dream come true when the editor selected my Owl painting for their cover. 
Indian Chameleon pen work got published in Indian's Best Illustrators in 2022. To be a traditional artist featured with top digital artists from India is a feat I cherish.  
A couple of my works gave me international recognition. 
Eurasian otters got displayed at The Novosibirsk State Museum of Local History and Nature, Ploshid Lenina, Russia in 2022. To represent India at such a historical museum is nothing sort of a dream. 
Small Cats of India, four small wild cats artworks got displayed at The Republic of Cats, Cat Cafe, St. Petersburg, Russia in 2022. To be the only representing wildlife artist from Asia is worthy of mention.
10.
What is the hardest part of being an artist?
This is a brilliant question! The hardest part of being a creative is to come up with original ideas. There are so many influences and inspirations one comes across every day. In this fast-paced world where everyone follows only trends. To draw inspiration from own's life experiences, being truthful to oneself and create soulful work among all the chaos is the toughest part being a creative. 
11.
How hard is it for you to part with your art?
Here is a strategy I follow with my artworks. Attach and Detach. How this works, while conceiving the idea, working on countless drafts, deciding the medium and working hours on end to complete the work, I stay attached to my work. As soon as I complete an artwork, the process of detachment begins. Keeping the artwork away from sight and storing them. With the birth of new ideas, and staying engaged with recent works completes the process of detachment. It becomes much easier to part with my artworks this way. 
12.
Success to you is?
Success is a relative term. I am intertwined with artworks success. It can be online or at gallery shows. When the artwork stops the viewer and makes them have a second look, that's what makes the artwork and my effort successful. The viewers' second glance is worthy enough for me to mindlessly pursuit my craft!
 13.
What does art mean to you?
This is a catch phrase I always share with my fellow artists and students. "Art is like breathing. It is inside and outside of me. If breathing stops, that's the end of one journey and beginning of another. Art always continues!"